THE SWINDLE YEARS
(JANUARY '78 - JULY '80)
PART ONE 1978
Rio de Janeiro. Steve & Paul meet Ronnie Biggs and "Martin Bormann" (actor Henry Rowland)
San Francisco, 17th January 1978, 3 days after the final date on their US tour, the Sex Pistols go their separate ways.
Tensions within the band, exasperated & encouraged by the group's manager Malcolm McLaren, had finally taken their toll. Accounts of the demise vary, but the resulting dissipation is clear.
Johnny Rotten flew to New York. Sid Vicious, after a brief stop in Los Angeles, also headed for New York, overdosing in flight, resulting in admission to Jamaica Hospital.
Guitarist Steve Jones & drummer Paul Cook, used their tickets for a planned trip to Rio de Janeiro to meet Great Train Robber Ronnie Biggs. It was hoped that Sid would later join them in Brazil, but this did not materialize. Steve & Paul stayed in Rio, in the company of Biggs, returning to the UK in March. Malcolm McLaren enlisted Julien Temple to film the encounter for the Pistols movie he was set on making.
The jaunt provided 2 songs. A reworking of the unrecorded Pistols song "Belsen Was A Gas", plus "No-One Is Innocent - A Punk Prayer by Ronald Biggs". The latter eventually surfaced as the next Sex Pistols single in June, although Virgin Records were initially reluctant to release it. With lyrics by Biggs dubbed as "tasteless", Virgin were further irritated by McLaren's indecision over its title. "Cosh The Driver" was vetoed, appearing only on the French release. Nevertheless, the confusion persisted as the UK 12" pressing proclaimed "The Biggest Blow - A Punk Prayer By Ronald Biggs".
Many felt the idea of a Great Train Robber as the new Sex Pistols lead singer to be an abhorrent publicity stunt. Despite such reservations, the single, (released as a 'double A side' with Sid's rendition of "My Way"), outsold the notorious "God Save The Queen". Steve & Paul themselves had no scruples with the venture. "He was a right laugh. I'd like to do some more with him." remarked Steve.
On their return from Rio, the duo found themselves in demand, a factor partly responsible for a 2 year period of career meandering. Another issue was Steve's escalating heroin habit which would plague him over the coming years.
First up was Johnny Thunders' "So Alone" LP for Real Records, on which the pair performed on 5 tracks. This ironically included "London Boys", Thunders' scathing response to the Sex Pistols' own "New York". The collaboration led to live dates with Thunders (Johnny Thunders' Allstars) at the Speakeasy, London, the first on 25th March. Thin Lizzy mainman, Phil Lynott also played at the sessions & would become a fellow ligger during this period.
Former Pistols demo producer Dave Goodman was another beneficiary. The customary 'Cook 'n' Jones wall of sound' was unleashed once more on "Justifiable Homicide?" a single credited to Dave Goodman and Friends & released in August, (The Label Records).
From May to July, the pair worked on the soundtrack to the Pistols' film (now titled "The Great Rock 'N' Roll Swindle"), contributing 'Johnny Rotten-less' product to the Sex Pistols name. Notable contributions included "Silly Thing", "Lonely Boy", (which both made it to the LP & film), "Here We Go Again" & "Black Leather", (neither of which did). In order to ensure Johnny Rotten's appearance on the soundtrack, Steve & Paul re-recorded the guitar & drum parts to demos from October 1976, beefing up the sound while leaving the vocals intact.
Steve guested for encores with The Clash at The Music Machine, Camden, London; 24, 25th & 27th July (Clash on Parole Tour). Songs performed: "London's Burning", "I'm So Bored With The USA", "Janie Jones" and "White Riot". Paul joined in on 27th July, drumming along on a second kit.
Two nights later, 29th July, Steve & Paul, plus Phil Lynott & his Thin Lizzy colleagues Scott Gorham, Brian Downey, & Gary Moore, plus Jimmy Bain (Rainbow / Dio) & Chris Spedding, appeared as The Greedy Bastards, at The Electric Ballroom, Camden, London. The set included "Black Leather", "No-One Is Innocent", "Pretty Greedy", as well as Lizzy material.
Just over a fortnight later, on 15th August, The Electric Ballroom also saw the only 'solo' UK gig by Sid Vicious, fronting the Vicious White Kids, who also featured Glen Matlock (bass), Steve New (guitar), Rat Scabies (drums), & Nancy Spungen (backing vocals).
'Swindle' filming proper began in August, featuring predominately Steve as The Crook in pursuit of McLaren, The Embezzler. Jones, Cook, & Vicious were filmed auditioning for a new singer, a sequence which led to the discovery of Eddie Tudorpole (aka Tenpole Tudor). With Sid contributing to the film, it appeared possible that the Sex Pistols still had a future, even without Johnny Rotten. A feeling perpetuated by McLaren's earlier announcement on June 3rd that the group would continue.
Sid's relocation to New York at the end of August initially seemed to have put paid to this proposal. Ironically Sid's arrest for the murder of girlfriend Nancy Spungen on 12th October rejuvenated the idea. An album teaming Sid with Steve & Paul to help raise money for Sid's defence was discussed, again with McLaren's involvement. The project remained 'live' until Sid's untimely death on 2nd February '79, with plans already laid to record in Miami following Sid's release on bail.
Meantime, with Johnny Rotten (now reverting back to real name Lydon) unveiling his new group Public Image Limited & the 'Sid & Nancy' saga unfolding in New York, Steve & Paul continued to occupy themselves as Pistols for hire.
On 12th October, Steve & Paul were again part of Johnny Thunders' Allstars, for a show at The Lyceum Theatre, London. During October, Steve found himself in Los Angeles, producing and playing with punk group The Avengers who were support at the Pistols final concert in San Francisco. The EP "The American In Me " resulted, (White Noise Records).
Steve & Paul's friendship with Phil Lynott continued with further live performances as The Greedy Bastards in December, including The Electric Ballroom, London. Although Bain & Spedding were absent from the previous line-up, (29th July), Bob Geldof appeared. Sex Pistols material covered included "No-One Is Innocent", "Black Leather", "Pretty Vacant", & bizarrely, "My Way". It had been a bizarre year.
However, a taste of what was to come in '79 was in evidence when Steve & Paul appeared with Sham 69 at The Rainbow, London, on 27th December.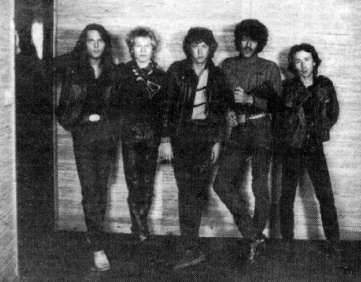 The Greedy Bastards (l-r; Scott Gorham, Paul Cook, Steve Jones, Phil Lynott, Brian Downey)
The story continues. "Silly Thing", Sham/Pistols fiasco & more.
Written and researched by Phil Singleton.
This feature is copyright to www.cookandjones.co.uk and Phil Singleton and may not be reproduced without written permission.
All rights reserved.
All material ©Phil Singleton 1998/2010 www.cookandjones.co.uk