THE SWINDLE YEARS
(JANUARY '78 - JULY '80)
PART 2 1979/80
1979
The death of Sid Vicious in February put paid to the Sex Pistols continuing in any form.
Virgin Records rush released the soundtrack double album "The Great Rock 'n' Roll Swindle" & the single "Something Else" featuring Sid on vocals, (a double A-side with a Steve Jones led romp through "Friggin' In The Riggin'"). Sid's revival of the Eddie Cochran classic was to become the group's best selling single. Virgin would continue to exploit the "Swindle" LP beyond the film's eventual release in May 1980.
In March, Steve & Paul leant their musical muscle to ex- Runaway, Joan Jett giving rise to the tracks "You Don't Own Me" and "Don't Abuse Me", included on the album originally titled "Joan Jett", before being renamed "Bad Reputation" (Ariola).
Johnny Rotten/Lydon began court proceedings in February against Malcolm McLaren over the use of the name "Sex Pistols", (during the course of which Steve Jones & Paul Cook would change sides from McLaren's to Lydon's).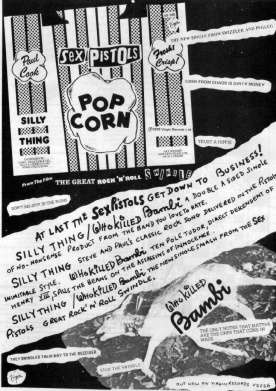 Steve & Paul's final gesture as "Sex Pistols" would lay the foundations for The Professionals to emerge the following year.
"Silly Thing" (advert pictured), was re-recorded with Steve taking vocal duties from Paul who had sung on the album cut. It was a powerful performance, making no. 6 in the charts in April . Although uncredited, bass was played by Andy Allen who would perform the same duties for The Professionals.
Spring '79 gave rise to rumours that Steve & Paul had lined up a singer for their new band. This was confirmed in May to be Jimmy Pursey, lead singer with Sham 69.
On June 29th, the Pistol pair came on stage at Glasgow Apollo for the encore at a concert billed as "Sham's Last Stand". Together they performed "Pretty Vacant", "White Riot", "If The Kids Are United", finishing with "What Have We Got". This performance of "What Have.." would appear later in the year on Sham 69's "The Adventures Of Hersham Boys" album (Polydor Records), while all 4 songs eventually saw release in 1989 on "Sham's Last Stand" (Link Records). In 2001, Sanctuary Records released the full concert, including encore, as "Sham Pistols Live".
'Sham Pistols'

Above: Pursey, Treganna, Jones, Cook
Below: Steve Jones with Jimmy Pursey
With Steve on guitar & Paul on drums, Sham bassist Dave Treganna was to complete the line up. The merger created much excitement amongst press & fans. However, even though the new "punk supergroup" never even got as far as settling on a name, (both "Sex Pistols" & "Sham Pistols" were possibilities), they did spend time in the studio. Four tracks were recorded at Manor Studios, Oxford in June: "Natural Born Killer", "You & Me", "Trainspotter", and "Individual". All four were finally released in January 2010 on the bootleg vinyl album "Natural Born Killer" (Punk Classic Records). "Some Play Dirty" is reported to have been recorded but has yet to surface. "Natural Born Killer" later surfaced as The Professionals' "Kick Down The Doors". (Kick Down The Doors website has it on good authority that a number of mixes of..... are in existence. Will they ever be heard, who knows?). Read review of the album "Natural Born Killer".
Jimmy Pursey announced the demise of the project without warning on BBC Radio. It was subsequently revealed that on August 19th, Steve & Paul had walked out on a recording session with Pursey. Steve remarked, "It's worse than working with Rotten."
The episode would have a detrimental effect on both camps. Pursey went on to reform Sham 69 but with limited success. Steve & Paul went into limbo.
Virgin kept the Sex Pistols name alive releasing 2 further "Swindle" singles, "C'mon Everybody",(vocals by Sid), & the title song, "The Great Rock 'n' Roll Swindle", (vocals Tenpole Tudor, Steve, Paul, Sid & "kids auditioning"). In addition, "Some Product - Carri On Sex Pistols", an album of interviews & radio adverts, reached no. 6 in the charts in August.
The next indication of activity came during the autumn. Steve & Paul (now managed by Fachtna O'Ceallaigh, The Boomtown Rats manager) were reportedly laying down tracks with Andy Allen playing bass. Tracks included, "Rockin' Mick", "Madhouse", "Just Another Dream", "Kamakazi", & "Skull & Crossbones". It would be considerable time however, before material by the trio would surface.
The next output was a single in December from the Pistols/Thin Lizzy jamming band, The Greedy Bastards, otherwise known simply as The Greedies for this release. "A Merry Jingle" (Phonogram Records, Thin Lizzy's label) led to TV appearances on "Top Of The Pops" (transmitted 20th December) and the New Years eve "Will Kenny Everett make it to 1980?" show. Vilified in some quarters ("Is this what the Pistols' have become?") it was a lighthearted but enjoyable slice of rock & not intended to be taken too seriously.
December also saw the release in Japan of "The Very Best Of Sex Pistols, And We Don't Care" (Nippon Columbia Records), notable for the inclusion of the 2 "lost" Cook/Jones "Swindle" session songs, "Black Leather" & "Here We Go Again". These would not receive a UK release for a further 12 months as part of a special pack of 6 Sex Pistols singles featuring 'back to back' A-sides (having been omitted from Virgin's UK "best of" LP "Flogging A Dead Horse"; Feb. '80).
1980
1980 began with a period of musical inactivity, Steve & Paul clearly having lost their momentum.
Time was spent in Vancouver participating in the filming of the movie "Ladies & Gentlemen, The Fabulous Stains" (aka "All Washed Up"). They played their customary roles of guitarist & drummer alongside Clash bassist Paul Simonon & "Scum" star Ray Winston as the lead singer. The pair also contributed 4 songs to the film, "Conned Again", "La La La", "Don't Blow It All The Way", & "Professionals" (later to become better known as "Join The Professionals"). The soundtrack album listed in the film's end credits was never released at the time, but came close in 2008. Rhino Records scheduled the album for autumn '08, then withdrew it at the last moment, but not before it was briefly available for download. If you were quick enough, you could buy it before it disappeared. September '08 also saw the first ever release of the movie on DVD in the USA, also on Rhino. There were two commentaries included, the first by Director Lou Alder, the second by Diane Lane and Laura Dean. Read review of the DVD.
Back in the UK, Steve lent his skills to 2 tracks on the Siouxsie and the Banshees LP, "Kaleidoscope" (Polydor Records), (later CD reissue included an additional Steve track), & added guitar to Gen X's "Dancing With Myself" EP & "Kiss Me Deadly" LP (Chrysalis Records). Meanwhile a single by The Physicals, "Be Like Me" (Big Beat) recorded the previous year was released. The single had been produced by Paul who also drummed on the record.
More significantly, Steve & Paul provided the musical backbone on "Psychedelic Musik", a single by Andy Allen's own band, The Lightning Raiders (Arista Records).
Then in July came the announcement that would make Andy Allen a fully fledged accomplice.
THE PROFESSIONALS HAD ARRIVED
Click here for The Professionals story

Return Home
Written and researched by Phil Singleton.
This feature is copyright to www.cookandjones.co.uk and Phil Singleton and may not be reproduced without written permission.
All rights reserved.
All material ©Phil Singleton 1998/2010 www.cookandjones.co.uk